Pioneers of Ford County, Kansas
Andrew Jackson Anthony - Stagecoach driver, merchant, rancher and founding member of Dodge City, Anthony was born in Goochland County, Virginia on July 23, 1830. He moved with his family two years later to Rockingham County, Virginia, where he lived for the next 21 years. He then moved westward, settling in Ohio before coming to Kansas in 1857, settling in Lawrence. There, he worked in the stagecoach business until 1863. He then became conductor and express messenger on the Southern Overland Stage Line from Kansas City, Missouri to Santa Fe, New Mexico until August, 1867. Afterwards, he settled on a ranch about twenty miles west of Dodge City, where he kept a few cattle and a provision store. He later moved to Fort Dodge and engaged in the sutler business until 1874, when he returned to ranching on land located just west of Dodge City. He was married in 1872 to Calvina Chambliss (Hagaman), of St. Louis, and the couple would have five children. He assisted in organizing Ford County and Dodge City, and was the first County Treasurer, and has served several terms as a County Commissioner.

Charles "Charlie" C. Bassett (1847-1896) - One of the many men who served the law in the wicked little town of Dodge City, Kansas. See Full Article HERE.

P.W. Beamer - A blacksmith, wagon and plow maker, Beamer was born on March 12, 1846 in Jackson, Ohio and was raised in Adams and Pike Counties in Illinois. He served a blacksmith apprenticeship from 1858-1860. In the spring of 1861 he enlisted in Company K, Sixteenth Regiment Illinois Volunteer Infantry and participated in all the battles of his command, under Generals Pope, Rosecranz and Grant. He re-enlisted as a veteran in December, 1863 and participated in the campaigns under General William T. Sherman until the war ended, at which time he was discharged as First Sergeant at Springfield, Illinois in July 1865.

He married E. A. Keller of Quincy, Illinois and the couple would have three children. In the spring of 1869, he went to Colorado and engaged in mining for several years before returning to Illinois, where he made plows until the fall of 1878. He ten moved his family to Kansas, where he engaged in agricultural and stock pursuits and in 1879 settled in Dodge City, once again working as a blacksmith. In 1882, he joined the Dodge City Police force.

H.C. Baker - Part owner of the Gaede, Baker & Co. Merchandise Store, Baker was born at Logansport, Indiana on September 16, 1849. He moved with his family to Nemaha County, Nebraska in 1856, where he was raised in a small village. He first began his career as a clerk in a store at Brownville, Nebraska and would continue in the mercantile business for the rest of his life.

He went to Atchison County, Missouri in 1874, where he clerked in a dry goods store for some time, before purchasing a 1/3 interest in the store for the next three years. Later, he became a member of the firm of Gaede, Baker & Co., which was comprised of himself, Richard Gaede, and S. H. Fields. He married in May, 1877 to Bertha Renner of Rockport, Missouri and the couple would have two children. In January 1, 1882, Gaede, Baker & Co. opened a store in Dodge City, with H.C. Baker at the helm. The store carried a general line of fancy dry goods, clothing, furnishing goods and live-stock.
Hamilton Butler Bell (1853-1947) - Sheriff of Ford County, Kansas for three decades following lawman

Bat Masterson

. He arrested more alleged outlaws, with a warrant, than any other lawman in the West. - See full article HERE.

H. M. Beverly - Partner in the Wright, Beverly & Co. store, he was born in King George County, Virginia in 1826 and was raised in Henderson, Kentucky. He enlisted with Texas troops in Confederate State service, was a Second Lieutenant of his company, and served some time in that capacity. He was married in 1850 to Fannie C. Skiles, a native of Kentucky and the couple would have seven children. He came to Kansas in 1870 and engaged in the cattle business at Abilene, and afterwards at Ellsworth, Great Bend, and finally Dodge City, following the Texas cattle trade. With R.M. Wright, he formed the Wright, Beverly & Co. store in 1877, dealing in general merchandise and men's outfitting goods.

O.A. "Brick" Bond - A buffalo hunter, Bond was born near the town of Springville, New York, but when he grew up, headed westward where he came to

Dodge City

with the Santa Fe Railroad in 1872. He worked as a buffalo hunter for the railroad, and was in charge of the butchering of the meat for the railroad workers. For the next 12 years, buffalo hunting and freighting was his major occupation and Bond was often spoken of as the the buffalo hunting "Champ" of the area and was later well-known for his stories from the buffalo hunting days. In 1881, he and Assistant Marshal Tom Nixon purchased the Lady Gay saloon and in 1884, he started a drug business that lasted for 30 years.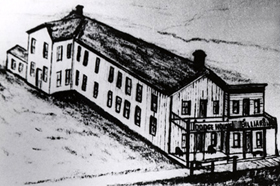 George B. Cox -

Dodge City

Hotel proprietor, Cox was born in Butts County, Georgia on September 10, 1836 and lived in that State until the Civil War broke out and he became a member of the Fourth Georgia Volunteer Infantry, serving until the end of the war. Afterwards, he drifted around for a while, until he finally settled in Kansas. In 1871 he married Annie H. Bennett of Trenton, New Jersey and the couple would have one daughter. He settled in Larned, Kansas in 1872, where he opened a hotel briefly. He then moved on to

Dodge City

, where he built The Dodge House, which contained 38 rooms, cost about $11,500 to build and opened to the public on January 18, 1873. It was run by the firm of Cox & Boyd until January 10, 1883, when George Cox bought the whole interest. He served as Probate Judge of Ford County, Chairman of the Board of County Commissioners, was a member of the City Council, and the School Board.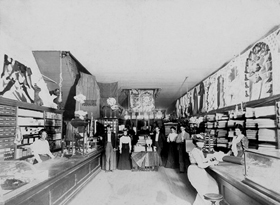 M. R. Draper - Mercantile Company Manager in

Dodge City

, Draper was born in Cincinnati, Ohio on February 23, 1850 and was raised in his native State. He came to Kansas in 1865, where he first settled near Leavenworth and engaged in agricultural pursuits until 1870. He then went into the employ of Parker, York & Co. at Parker, Kansas until 1873. At that time he moved to St. Louis, Missouri

, where he worked for the United States Express Company and continued until he came to

Dodge City

. He married Cora E. Collins of St. Louis,

Missouri

on April 23, 1877 and the couple would have one daughter. In 1881, he moved to

Dodge City

as the manager of the

Dodge City

branch of the York, Parker & Draper Mercantile Company, which dealt in general merchandise and live-stock. Unfortunately, his wife died the same year, in November.

George S. Emerson - Merchandise store owner in

Dodge City

, Emerson was born in Providence. Rhode Island on July 18, 1844 he lived there until he came to Kansas. In the fall of 1864 he enlisted in Company D, Eleventh Rhode Island Volunteer Infantry, in which he served until he was mustered out in September, 1865. He came to Kansas in 1869, settling on the Saline River in Saline County, Kansas, where for a number of years he engaged in the stock business. He then went into the business of shipping buffalo bones in a large way, which he continued in connection with freighting. In 1876, he established a ranch in Clark County, which he operated until he came to

Dodge City

. In the spring of 1880 he opened a general merchandise store in

Dodge City

and employed six clerks. In 1881, he married Annie Coffey, a native of Humboldt, Kansas, and the couple would have one son. While in Dodge, Emerson also served on the City Council.
From the Legends' General Store

Kansas Historic Book Collection - 35 Historic Books on CD - The Historical Kansas Book Collection is a collection of 35 volumes relating to the history of Kansas and its people primarily in the 18th and 19th centuries. Several of the volumes have great period illustrations and portraits of relevant historical figures. Includes such titles as the History of Kansas (1899), History of Kansas Newspapers (1916), All five volumes of A Standard History of Kansas (1918), Pioneer Days in Kansas (1903), and dozens of others.
Made in the USA.