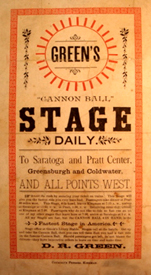 The prosperous days of the Cannonball route wouldn't last; however, as the railroads moved west, the demand for stage service soon dwindled and Green began to look for other business endeavors. In 1889, he was elected Kiowa County's first representative in the Kansas legislature.
Later, in 1898 he took a claim in Oklahoma Territory when the Cherokee Strip opened and became one of the founders of Pond Creek, as well as a county officer.
Green died in Long Beach, California in 1922 at the age of 83 and is buried in Maple Grove Cemetery in Wichita, Kansas.
In 1997, the state renamed a 60-mile stretch of U.S. 54 from Kingman to Greensburg the Cannonball Stage Line Highway, honoring Cannonball Green.

© Kathy Weiser/Legends of Kansas, updated March, 2017.
All my stages are fast, but the Cannon Ball 4-In Hand is the FASTEST STAGE IN AMERICA…. Get up and take the Cannon Ball, then you can tell them East that you had a fast ride. Should passengers get left, do not blame the drivers,
they have imperative orders to leave on time and make time.
-- D.R. Green, 1880
Sources:
Barber County Index, August 24, 1922
Kansas State Historical Society
Wichita Beacon, August 2, 1922
Wichita Eagle, May 12, 2008