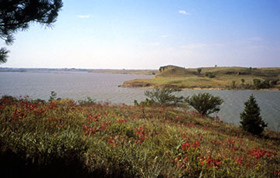 Kansas' oldest recreation area, Kanopolis State Park includes more than 11,000 acres of rolling hills, bluffs, and woods, as well as the 3,400 acre Kanopolis Reservoir. Managed by the U.S. Army Corps of Engineers, the lake not only provides the benefits of flood control and numerous recreation opportunities, the area is also rich in Kansas history.
Long before the lake was developed, the Smoky Hill River Valley served as a lifeline for its inhabitants for many centuries. Many millions of years ago Kansas was covered with a warm shallow sea, which left behind limestone and Dakota sandstone deposits from aquatic life, as well as many sea creature fossils and sharks teeth as evidence. Prehistoric wildlife such as wooly mammoths and mastodons migrated the upper reaches of the river valley along with varieties of vegetarian dinosaurs. More notable travelers of pronghorn antelope, elk, and bison moved with the changing seasons and often frequented the river valley.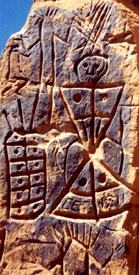 Early Native American tribes of Pawnee, Cheyenne, Apache, and Kiowa followed the game trails for centuries and camped within the deep sandstone canyons and along the Smoky Hill River, leaving rock art, known as petroglyphs as pictorial evidence of their tribal lifestyles.

The first introduction of European explorers to the river valley was documented in 1541 as the Spanish Conquistador's led by Francisco Vasquez de Coronado in their search for gold in the seven cities of Cibola. Native American rock art depicted trade with the Spanish by the introduction of decorated horse and mule into tribal lifestyle. The French followed suit with explorers of the Trans-Mississippi West from the 1700's to the early 1800's, introducing fur trapping to the tribes, and blocking Spanish influence.

The California Gold Rush and the Homestead Act increased westward expansion of Europeans through the river valley during the mid 1800's. The