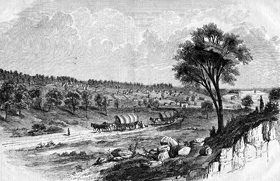 Located on the Kansas River in northwest Douglas County, about 12 miles from Lawrence, Lecompton has a long and rich history, beginning with its being the pro-slavery capitol of Kansas Territory.
When Kansas Territory was opened for settlement in 1854, some of the first pioneers in the area were A.W. and A.G. Glenn, father and son; G. W. Zinn, David Martin, M.S. Winter and William Shirley. The small settlement that formed was originally called "Bald Eagle," but soon changed to Lecompton in honor of Samuel D. Lecompte, the chief justice of the Territorial Supreme Court.
The Lecompton Town Company was organized at the Potawatomie Agency in 1855 and consisted of pro-slavery men, Samuel D. Lacompte, John A. Halderman, Daniel Woodson, George W. Clarke, Chauncey B. Donaldson and William R. Simmons. In the spring of 1855, the town company held its first meetings in Westport, Missouri and by May, the town site, consisting of 600 acres, was surveyed and platted. It was designed with the expectation of making Lecompton, not only the capitol of the territory, but also to make it a large city. The first house was built of logs by W.R. Simmons in the fall of 1854.
1855 was a busy year for the new settlement as workers began to construct a new capitol building in the east part of the town on a picturesque site overlooking the